The Falklands War, 1982
Jump to: Background of the War / Personal Accounts of Those Involved / Timeline of the War / Thatcher on the War / Outcome of the Conflict / Sources for Further Study / Musical Responses to the Falklands War
Background of the War
The Falklands War was a conflict between Argentina and the UK over sovereignty rights of the Falkland Islands, located off the southeastern tip of Argentina: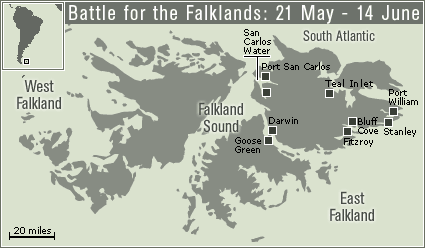 [Image source: BBC, "Fight for the Falklands: Twenty Years On"]
The conflict lasted from April 1982 to September 1982, which is when the last British ships returned to the UK. The Falkland Islands was the UK's last remaining colony in the South Atlantic. According to the BBC, it was mostly barren ground [and] supported more sheep and penguins than people."
The war was hotly debated in the UK at the time; some saw the conflict as an act of Argentine aggression, while others felt that the war had been provoked by conservatives in Prime Minister Margaret Thatcher's government who were already struggling to lead the country out of the economic and social unrest that had dominated British life in the 1970s. Thatcher herself was accused of using the Falklands War as a measure to restore pride in UK life and confidence in her government.
The Argentinian government claimed ownership of the islands (known as the Malvinas in Argentina) as well, citing that both the Falklands and Argentina were once a part of the Spanish empire. Thus, the Argentinian government saw British colonial ownership as "a long standing affront to national pride" (BBC Online, "Fight for the Falklands: Guide to the Conflict").
Similar to the suspicions raised against Thatcher's use of the war, the Argentinian government's military Junta was accused of using military aggression to jump start nationalist pride as a way to overlook the country's failing economic system.
However, on 16 February 1985, Assistant Secretary of the Ministry of Defence (MoD) Clive Ponting resigned his position after he was accused of leaking important documents related to the conflicted history of the Falklands War. He was tried for suspectedly breaching the 1911 Official Secrets Act, but his trial also revealed some interesting information concerning Britain's controversial sinking of the Argentine ship The Belgrano on 2 May 1982. Instead of the attack being seen as an act of Argentine aggression following their invasion of the Islands, Ponting's case made it clear that "the General Belgrano had been sighted a day earlier than first reported and was sailing away from the British fleet, out of the exclusion zone when it was attacked" (BBC Online, "1985: Falklands' row civil servant resigns"). This information raised serious questions about the honesty of Thatcher's handling of the war. Ultimately, this information helped the Argentinian government to file a law suit against the UK in June 2000 with the European Court of Human Rights on behalf of the 323 Argentinians who died on the Belgrano (ibid).
Roy Greenslade worked at The Sun during the Falklands War, a paper famous for its sensationalist coverage of the war (including the infamous "Gotcha!" headline when the Argentine ship, the General Belgrano, was sunk); here is his account of that time from a Guardian essay "A New Britain, A New Kind of Newspaper" (from February 2002).
Short documentary on key moments of The Falklands War narrated by British BBC journalist Max Hastings:
Timeline of the War, April - September 1982
2 April - Argentina invades the Falkland Islands.
24 April - First Briton dies in Falklands campaign.
25 April - Marines land in South Georgia.
1 May - RAF bombs Port Stanley.
2 May - British sub sinks Argentine cruiser.
4 May - Argentines destroy HMS Sheffield (footage of exocet missile hitting the Sheffield).
21 May - British gain beachhead on San Carlos Bay; HMS Ardent sunk.
25 May - Dozens killed as Argentines hit British ships.
28 May - First land battle at Goose Green.
8 June - 50 dies in Argentine air attack.
14 June - Ceasefire agreed in Falklands; UK troops reach the capital of Falklands, Stanley.
29 June - General Galtieri ousted as Argentine president.
21 July - Homecoming for HMS Hermes.
10 September - HMS Andromeda, Avenger, and Penelope return to England.
16 February 1985 - Clive Ponting, Ministry of Defence (MoD) assistant secretary, resigns.
[Source: BBC, "Time: Falklands"]
The war cost the lives of 655 Argentine and 255 British servicemen, many of them sailors who died during attacks on warships.
It ended on 14 June when the commander of the Argentine garrison at Port Stanley surrendered to British troops.

The victory greatly boosted the popularity of Margaret Thatcher's government which went on to win the next election. (Note: Ponting's trial, which exposed serious questions about the handling of the Belgrano sinking, had yet to occur.)

General Galtieri of the Argentinian military rule was deposed and served three years in prison for military incompetence. (In July 2002, he was arrested on charges relating to the abduction, torture, and death in 1980 of opponents of his military regime but died in January 2003 before coming to trial.)
In October 1983 Argentina returned to civilian rule but it was 1990 before full diplomatic relations with the United Kingdom were restored.
Argentina still maintained its claim to the Falklands.
[Source: "1982: Argentina invades Falklands - In Context"]
1. Thatcher's address to the House of Commons, announcing the invasion of the Falkland Islands (April 1982):
2. Thatcher's "Spirit of the South Atlantic" speech regarding the Falklands (below):
3. Thatcher famous interview with well-known journalist David Frost about the sinking of the Argentine vessel, the Belgrano (click here).
4. Margaret Thatcher being questioned by a British voter, Diana Gould, on TV on May 24, 1983, during the general election campaign, about the sinking of the Argentine warship the General Belgrano during the previous year's Falklands conflict:
Note: Read Margaret Thatcher's speech to "Conservative Rally at Cheltenham, 3 July 1982" (available via class space on D2L).
Bob Mullen, British sailor from the HMS Sheffield
Simon Weston, British sailor injured during the war
Mark Browne, British paratrooper
Jose Luis Ferreira, Argentinian sailor from the Belgrano
Bob Mullen was a sailor aboard the HMS Sheffield during the Falklands War. The following remarks are his retrospective account of the UK's attack on the Belgrano, the sinking of the HMS Sheffield, and the press portrayal of the war:
On 2 May [1982] I was on watch when a flash signal came in - the most important type of naval communication. I went to grab it as it was passed along and saw that the General Belgrano had been torpedoed. Everyone cheered. 'Yes! They've had some!'

But then First Lieutenant Mike Norman walked in as the lads were cheering. 'They are sailors like us,' he said. 'Some hundreds of miles away there's 500 men trying to swim around in the water and stay alive. They could be dead, they could be freezing. And tomorrow it could be us.' [Note: A total of 323 Argentinian sailors died in this attack.]

In all honesty, we hadn't thought of the lives encased in that ship. To us, the sinking meant one less threat to us. It was just a name.

...

When we returned home, I was embarrassed by how we had been portrayed. At RAF Brize Norton there were cheering crowds as we landed.

In the newspapers we were described as the Sheffield heroes. But we didn't feel like heroes. We had lost our ship.
Simon Weston was a British sailor aboard the British war ship Sir Galahad when he was severely injured during the war on 9 June 1982. Argentine military Skyhawk fighters bombed Weston's ship, which was carrying ammunition as well as phosphoric bombs and thousands of gallons of diesel and petrol. Weston suffered critical burns that covered 46% of his body, which made him unrecognizable:
My first encounter with a really low point was when they wheeled me into the transit hospital at RAF Lyneham and I passed my mother in the corridor and she said to my gran, 'Oh Mam, look at that poor boy,' and I cried out, 'Mam, it's me!' As she recognised my voice her face turned to stone.
Weston has since condemned the war as a political scheme that served those in power:
The only winners are the financial houses, the arms companies and the politicians who've used the system and current affairs to aid and abet their desire for power.
Mark Shurben-Browne joined the army aged 17, and after serving time in Ireland and Kenya was sent to the Falkland Islands as part of a parachute unit. The following is his account of the war:
When the conflict started all of us were ready for it. We weren't gung-ho, but we all wanted to go. This was something we had trained for. We were ready and we wanted to get in the thick of it.

In fact I nearly missed out. My sergeant major wanted me to stay behind because I had to appear in court to give evidence as a witness in a drunk and disorderly case. But it didn't work out like that. My attitude was: 'B******s! there's no way you are leaving me behind.'

I wish now that I had been left behind. What happened next—the conflict itself—can only be understood by people who have been through it.

Talk of diplomacy
We sailed to the Falklands via Ascension Island on a North Sea ferry called the MV Norland. At first a lot of us thought that there wouldn't be any actual shooting. There was still talk of a diplomatic solution. Then we got the news about the sinking of Belgrano and HMS Sheffield and the mood changed. People thought: 'This is it.'

Once we were inside the 200-mile exclusion zone, it started to get real. The thing that helped us was that the Norland had a steward who was openly and very obviously gay. He would play the piano every night and lead a sing-song. The guy was an unbelievable morale booster. We called him Wendy and he called us his boys.

We landed on the Falklands in the middle of the night, jumping waist-deep into freezing cold water in pitch darkness. Then we had to wade through the sea and cross a beach with no cover whatsoever.

Goose bumps
When we were in the landing craft—in the pitch dark, not knowing what was going to happen and not being able to turn back but having time to think—the fear was silent, intense, sickening. It still makes the hair on the back of my neck stand up when I think about it.

We spent a few days in the mountains firing at Argentine planes in the valleys. They were so close that you could see the pilots' faces. It was hard to do much damage unless you got a direct hit on the pilot.

Then we got the order to move. We were opposed all the way by Argentine fire. The fear was such that I smoked 20 cigarettes in an hour. We had no covering fire and no aircraft cover because of low cloud. We were running out of everything—low on ammunition and food.

There were casualties. They were all friends. When you are in a military unit under fire, everyone in the unit is your friend. You know everyone who dies and get injured.

Birthday
I spent my nineteenth birthday running across what we thought might be a minefield, scared out of my wits dodging artillery shells and mortars. All I could think was, 'If they get me on my birthday my mum is going to be really pissed off!' But I escaped by the skin of my teeth.

These days in a conflict—the Gulf or Afghanistan—they blanket bomb for months before the soldiers go in, basically to mop up and restore order. I wish they had done that for us. Instead it was had to hand all the way and it was awful.

When they surrendered we saw for the first time what we had really been up against. We had been told that we were up against an untrained conscript army who didn't want to fight. We were told that their force was the same size.

It turned out that they outnumbered us three to one. When we saw for the first time all those troops—and how well armed they were—we just turned to each other and said: 'f*** me!'

Breakdown
It's only afterwards that it hits you. After I got home I went on holiday to Spain and got incredibly drunk. I had what amounted to a breakdown.

I just couldn't believe that people were carrying on with their lives as normal—when all these people had been killed. That was hard to understand. It took me a long time to realise that for most this was a small conflict which did not affect them very much.

In the 20 years since, I've had my ups and down. I've had the depressions, sleeplessness and the nightmares. My marriage broke up and my ex-wife blamed the Falklands for that.

Suicide
But I'm lucky compared to most. I hold down a good job—selling IT and office equipment—and I'm doing well. I've never been truly suicidal—Prozac is a wonderful thing.

The fact is we have now lost more survivors to suicide than were killed in the war itself. I buried a very good friend of mine last year. Another Falkands suicide.

This year I am going back to the Falkland Islands as part of the anniversary pilgrimage. There's 200 of us going. I'm nervous about going back. But you've got to walk the walk. You've got to face your demons. We are getting older now, and it will probably be the last chance we get to pay our respects to our fallen comrades.

Jose Luis Ferreira, like Mark Browne, was only 17 when he joined the Argentinian army and found himself on the Belgrano, which was sunk by the British on 2 May 1982. The following is his account of the ship's sinking:
On the day of the attack I was just finishing the 1200-1600 watch. I was inside the cannon area with seven or eight others, waiting to be relieved, so we could go and rest. The first torpedo hit the stern, the machine room. It was a very loud noise, much louder than thunder. Everything shook. The power cut out, it was dark, and I noticed a particularly strong smell of gunpowder.

Two minutes later the second torpedo shot away fifteen metres of the cruiser's prow. Our bedroom disappeared. If we had exchanged watch on time, we wouldn't be alive today.

Beside me I remember there was a very young sailor on his first voyage on the Belgrano and a petty officer with some 20 or 25 years' service who knew every inch of the vessel. When the attack got underway, the lad said: 'Aeroplanes, aeroplanes.' And the old sea dog corrected him: 'No, it's a torpedo. Keep still because there'll be another one.'

Exclusion zone
We froze, not really understanding what was going on. We had just started to relax after leaving the exclusion zone. I saw a half-naked petty officer covering himself with a blanket. He was quite badly burned. He had been injured while having a shower.

That was one of the first things that had a real impact on me. Everything was silent as we awaited a third torpedo. Everyone stayed put, trying to find out what was going on. The radio operators were calling. I saw whirlpools around the ship, which meant we were not moving.

The Belgrano had been rendered useless. There was a big commotion as the crew tried to get into position for the lifeboats. We were each assigned to one. We heard a lot of shouting, people trying organise the proceedings or search for their friends. Some were sobbing in panic.

Abyss
When we went up on deck to get to the lifeboats, I saw an amazing thing: where the 15 metres of the prow of the Belgrano had been, there was instead a great abyss.

It was then that I realised many people had died. I registered that quickly and coldly. Everything happened so quickly. I lived every second. I meant to get out alive, I didn't want to die. I had an advantage in that I wasn't wounded or burnt or naked.

The lifeboats were made of rubber and inflated on landing in the water. We jumped into them. The ship was listing, making whirlpools and the wind was pushing us against it. We had to row madly so as not to crash into the sharp metal edges that had been left after the explosion.

Panic
Just then I saw something else that really had an impact on me. The anchor chain began to tense. Then it broke. The anchor fell onto a lifeboat. It was like squashing a snail. Nobody got out of there alive, not even a shred of rubber. Then our lifeboat burst and began to deflate. We had to throw ourselves into the sea.

I tried to kick off my boots and swim towards another lifeboat. On the way I came across a friend who couldn't swim. I don't how he managed to be on the Belgrano. Then he started panicking and shouting: 'Help, help.' At that moment there was a big black stain on the water. They had thrown the cruiser's oil containers into the sea to avoid a fire. It was difficult to hang on to the lifeboats as they were slippery.

The lad who couldn't swim was covered in oil, he was so desperate, he kept going under. When I managed to get on to a lifeboat I helped to rescue him. But he couldn't stop crying and shouting and I was afraid that he was going to push the rest of us over the edge.

I saw the Belgrano disappear into the water. An officer said: 'Don't look.' He was trying to spare us being left with that image of the ship, but it was too late. I saw it keel over and that was it, our "mini-city" had gone. The silence was deafening. There we were in the middle of nowhere: just water and sky. It was a cold evening, cloudy. It began to get dark.

Crying
We started counting our numbers. Everyone called out his name. One of my superiors was next to me, a military man of some 40 years' service who had been very strict and had reprimanded us if our hair was untidy or we were unshaven.

Here he was, crying and repeating the same words: 'We're all going to die.' At one point, a doctor who was on board gave him a clout to calm him down. The man didn't say another word. I thought to myself: 'And these guys are the military?'

At times, people prayed or sang or tried to strike up a conversation. Someone would ask which division they belonged to and what job they did. The conversation might last five minutes then cut off.

Numb
We couldn't sleep, because everyone knows that if you go to sleep in the cold you don't wake up again. Our legs became so numb we could hardly feel them. We resorted to urinating on each other as a means of keeping warm. We didn't eat. The lifeboats only came with first aid kits containing fruit pastilles, sugar lumps, sweets, chewing gum and water purifying tablets. As we didn't know how long we were going to be adrift, we tried to resist as long as possible.

The next day nobody wanted to pray or sing or speak. We were hoping that death would come and that it would all be over quickly. Some hours later we heard the foghorn of the ship that came to our rescue and everything changed very quickly.

People started celebrating, eating the rations and drinking the water we'd been saving. Since then I feel that everything in life is transient and I have to enjoy every moment to the full.
Belgrano Stories of Hector Bonzo, Leonidas Ponce, and Edda Sevilla:
Musical Responses to the Falklands War
New Model Army's "Spirit of the Falklands" (1982)

Crass's "Sheep Farming in the Falklands" (1983) and "Gotcha" (1983)

Elvis Costello's "Shipbuilding" (1983)

Elvis Costello's "Cinco Minutos con Vos" ("Five Minutes with You") (2013)

Split Enz's "Six Months in a Leaky Boat" (1982)

New Order's "Blue Monday" (1982)


The Exploited's "Let's Start a War" (1983)